It undermines even the best of marketing efforts.
Your website's immaculate. Google My Business, optimized. Everything's in order…
…until a person calls and leaves a voicemail after hours. Or doesn't get a reply to their contact us form submission.
Or, a signup doesn't route to the proper place.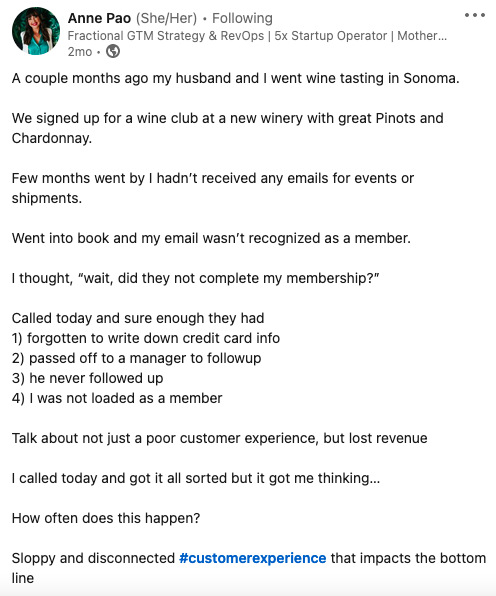 It happens far more often than it should.
The core problem: Nobody put themselves in the customer's shoes
When was the last time you, as a small business owner, tested your own website?
Called to see what would happen?
Filled out a contact form to make sure it came through (and didn't go to spam or the wrong inbox)?
The answer is probably "not recently."
And therein lies the problem we all can fall into: you're so busy running the business and serving your current customers, when are you going to think about testing some of your customer's experiences?
Mistakes happen. In Anne Pao's example, it was human error. We're all human and have to acknowledge these things will occur.
But can they happen less often? Yes.
Here's three ways to find gaps and fix them:
Solution 1 – Have a friend "secret shop" your business
Get them to fill out a form. Call your business. Buy something online and use a discount code. Walk into your store.
Get their honest feedback.
Ideally, you'd have more than one do this so you can get a larger sample size. Buying each lunch can go a long way to getting their best effort, too 🙂
For companies with a heavy online presence, you can also have your friend record what they think and feel. We have a few examples of this on our Youtube channel if you want ideas.
Solution 2 – Incentivize customer feedback
You can't pay people to leave great Google reviews, but you can still nudge them to let you know the good, bad, and ugly of their customer experiences with you.
For example: Have a monthly drawing for a $100 Amazon gift card. Only people who respond to your customer satisfaction survey can be entered to win.
The amount ($100) is high enough to get people's attention. You can quickly check to make sure the winner did, in fact, interact with you recently.
Keep the survey short (5 questions maximum, and one needs to ask for their information) and you'll get more useful data because you aren't asking for too much of their time.
Review this data on a monthly basis. It'll highlight positives you can lean into and gaps you should quickly fix.
Solution 3 – Check your analytics
Do you track phone calls and form fills? If so, you're sitting on the data to gut-check if there's a miss.
Look at how many calls you logged last month. Then, cross-reference your website data for phone calls + your Google My Business information for calls from your profile for the same timeframe.
Are they close? (It won't be exact). Great! You're likely in a good spot.
Is there a big gap? You may have found an issue.
Do the same with contact us form fills – your website's data should have this available.
Grimacing?
If so, we get it: you may not have time for this. You are running a business in addition to everything else in your life.
That's where we come in.
Try our small business marketing services, book a discovery call, and let us bring these gaps to light for you!