If you're running your own small business marketing, you've probably heard the phrase "keyword research" plenty of times. It's a core component of creating an SEO strategy for your entire website, so nailing the details here is pretty important!
But … how can you go about getting it done well?
You could hire an agency or a freelancer, of course. But if you're reading this, chances are you're looking to save some budget and do it yourself. And we're here to help you get going!
So, without further ado: Four steps to getting started with your keyword research (with a bonus at the end):
Step #1: Gather Ideas
I know, really complicated, right? However … ask yourself the following questions:
What are the services / products that I offer? (Easy enough)
What would people who don't understand the nuances of my business say I do? (Not as simple)
Most businesses get the first question down pat, but they totally neglect thinking about things from the customer's point of view. Why's this important?
Your customer is who's typing stuff into Google. And they're the ones Google is catering to. So if you aren't optimizing for relevant terminology, you're going to miss what they're looking for!
If you aren't sure how to answer the second question, try a few different methods … ask your friends / family on social media what you do, look at a competitor's website to see what they're writing about, or you could simply ask us for help.
Next, you'll need to get ideas based off your information.
Google Ads Keyword Planner is pretty well-known, but you need to have a Google Ads account setup (even if it's a dummy one that you aren't actually running ads to). However, it's one of the best to use because you what city / area you're getting information for, which many other tools don't provide.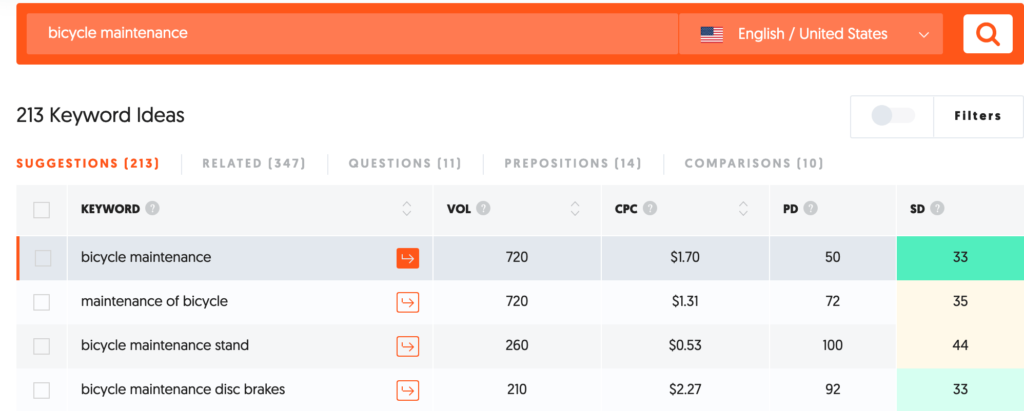 Neil Patel's Ubersuggest (shown in the photo) is a nice alternative with a simpler interface we've often used, and there are of course plenty other options (Ahrefs has a solid starting point). Google Trends is also handy for seeing how people have been searching recently.
Type in your list of answers above, and start mapping out the most relevant ideas you find for your business:
Group highly-similar ideas together. You'll probably use them on the same page / content.
For each term, you'll see a "monthly average searches" number. The higher the number, the more people use that phrase – and the higher the competition for that term.
If we're honest, you probably aren't going to rank right away for terms with a high (see: over 300) searches.
Shorter terms are probably more vague, and aren't a great fit. For instance, if I run a bicycle repair shop, "bicycle" will show up a lot more than "bicycle repair" or "fix my bicycle" … but which one do you think means a person needs to get their bike fixed?
Now that you have a list, it's on to step two:
Step #2: Assign a primary and secondary phrase to each page on your website.
It's probably best to do this in a spreadsheet, to keep tabs on everything.
The primary and secondary should be closely related. So, for example, if I'm trying to get greater exposure for my bicycle repair shop, a small version could look like this:

There are a few benefits to this:
You can make sure you don't target the same term / phrase on multiple pages. You don't want Google guessing which page to show for a particular term.
Easy-to-maintain list that allows you to keep track of what you've optimized. Easy enough, right?
Allows you to double-check your initial line of thinking. More on this in point four below.
Makes sure you aren't getting overly crazy with your keywords. In the example above, notice I have "upkeep" listed as a related term for bicycle maintenance. That's because Google is smart – it knows they're closely related. Having a page on my website for "bicycle maintenance" and "bicycle upkeep" isn't really going to help as much as using the terms interchangeably (as a normal person would do in everyday conversation) on the same page.
Step #3: Check what else people are asking.
Alsoasked.com really shines here, because you can input a key phrase and see what people are asking for …. voila! Here's key questions people actually ask in Google about what you're trying to show up for!
If you can answer questions like these with what you're providing on your website, your odds of being seen will only go up. (Note: You don't have to necessarily have the question itself on the page. But this tool is quite handy for putting you in the mind of how people look for you in Google).
An example (click to enlarge):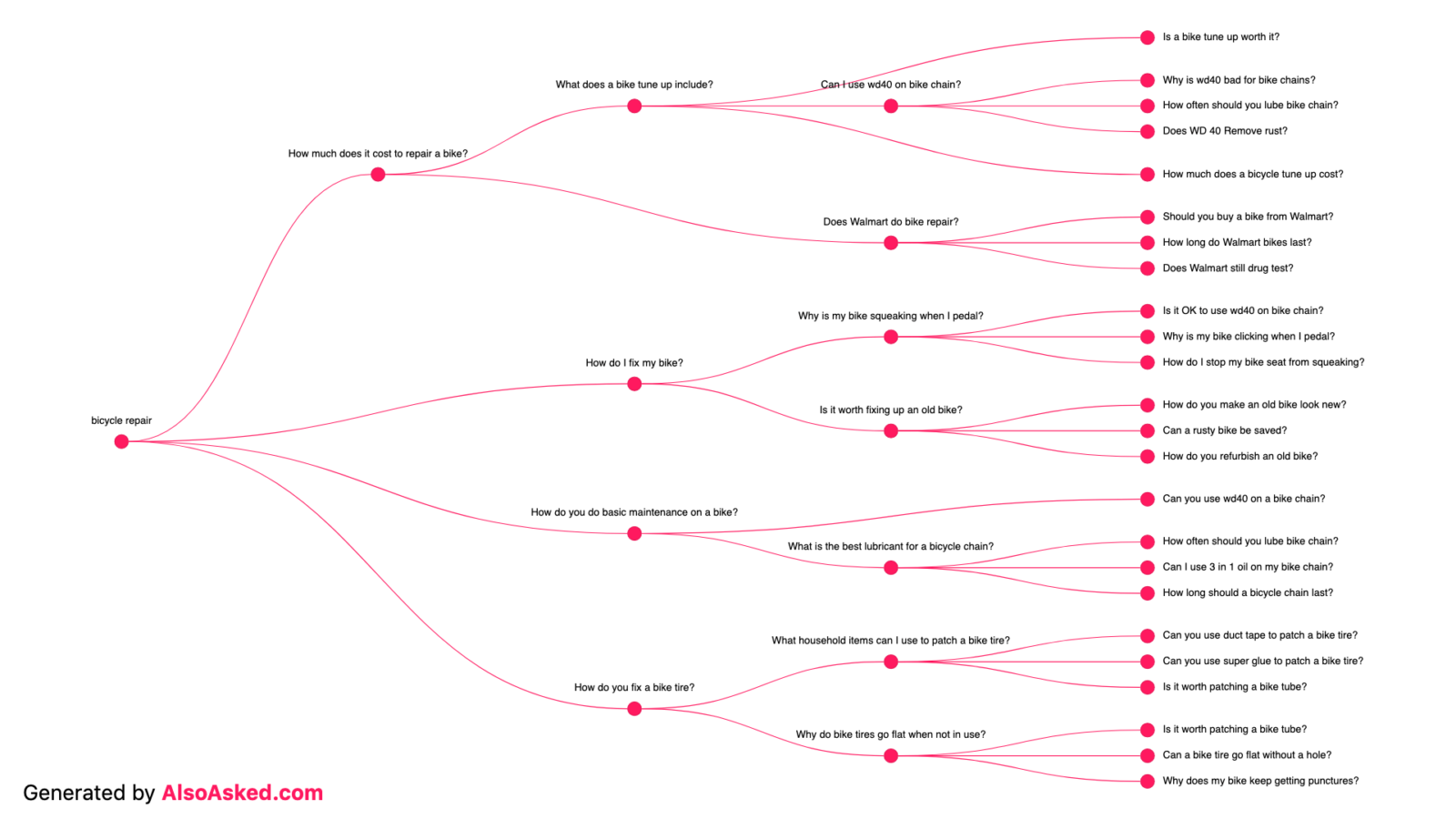 You could create an FAQ on your site, or simply address some of the points in a Youtube video or 1-by-1 with how-to articles. It looks like I may need to focus on a blog post about all the reasons a bike may be squeaking next for my fictional bike shop!
Step #4: Double-check Intent, Know Research vs. Buying
Just because a keyword shows as having lots of search volume doesn't make it right for you. Neither, for that matter, does any term on its own.
Remember those two questions you answered at the top?
What are the services / products that I offer? (Easy enough)
What would people who don't understand the nuances of my business say I do? (Not as simple)
Now we're going to add a third:
What does Google think people are looking for when they type a particular keyword / phrase in?
The good news? This is the easiest step of them all: A quick Google search should do it. Just follow these steps:
Open a "private browsing" or "incognito" window in your browser
Head to Google, and type in your phrase
What shows? Are they businesses like yours? Or is it something else?
One key item to know is research vs. buying intent. If a person is searching "how do you fix a bike tire?" like in the example earlier, they're not looking to buy a tire – so I shouldn't try to sell one to someone looking for this! Instead, helpful information that answers the person's question is appropriate here.
But if that same person types "buy bike tire" into Google? You'd better believe I want to take them to my page with available tires.
So don't just blindly
Bonus: Ensure your Local SEO is on point.
Not sure what I'm talking about? Here you go! This is probably even MORE important than your keyword research!
In Summary
With a solid plan, you can make sure Google (and your customers!) understand what your site is all about – and that'll only help you in your goal of getting people to your website.
You can also look at what other businesses in your area may be doing, or see how some leading websites in the US have optimized for a given keyword or phrase (A quick Google search should help for the former, Ubersuggest is really handy for the latter)
Have a question? Feel free to reach out and we'll be happy to answer your questions!