We get it: You've taken a few moments to check us out, poked around, and you're curious if we're actually good. Your hard-earned dollars and business feasibility depend on making the decision.
How We're Better:
Lower costs. Many Atlanta-based agencies charge upwards of $125 an hour for their services. But because you don't pay our rent (we don't have any!), you stay in budget.
Cross-channel expertise. Being able to integrate the parts of a whole matters, and you won't get just one piece of the digital marketing pie with us. It's integrated, so it works together.
Scalability. Have larger needs? We can scale up to meet them with expertise in the desired field(s).
Absolute-max pricing. Before any work is completed, you have an in-hand estimate of hours and cost, and we can't go over it.
Interested? Read how we've helped some of our clients:
Lacher Construction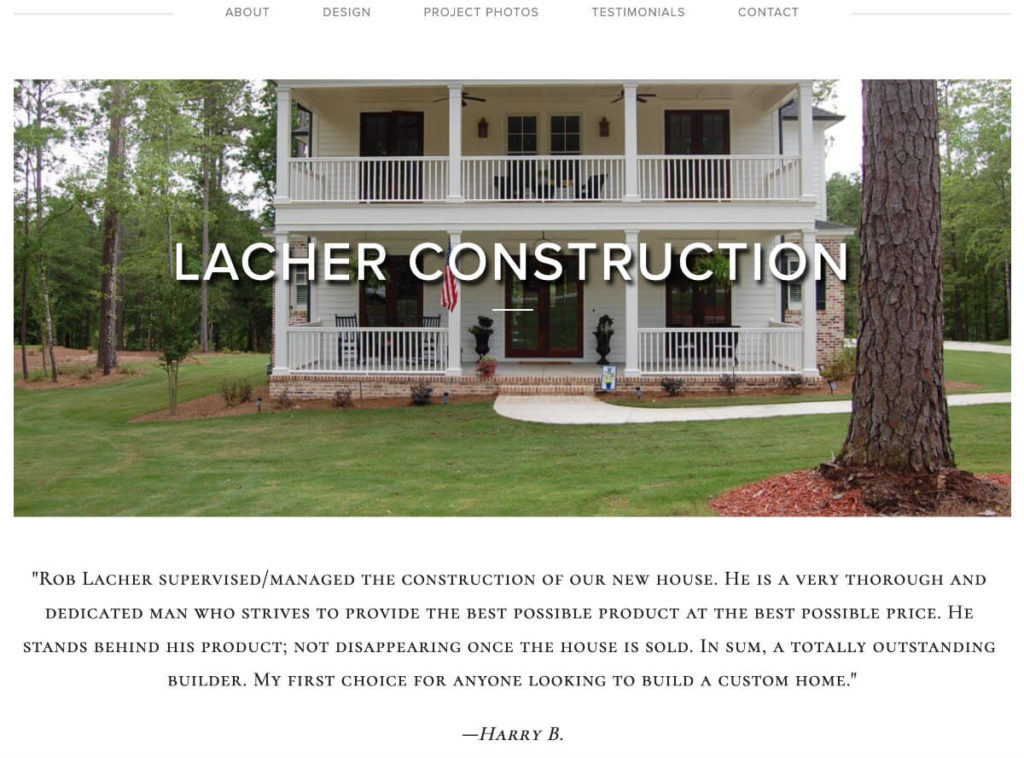 The need: Rob Lacher, a CPA-turned-builder, wanted to grow his online presence for Lacher Construction.
The main issue: If you searched for a custom home builder, you'd find many options … but Lacher Construction wasn't one of them.
What we did:
After identifying the primary audience, we set out to revamp the site to resonate with that same audience. Some changes, such as placing real customer testimonials on every page, are designed to engender the trust necessary for such a large investment. Others, such as SEO-optimizing text, implementing schema markup, and forcing https keep people engaged with the content longer through a stronger (and safer) on-site experience.
Off-site strategies included setting up Google My Business, correcting wrong information on listing sites, building backlinks in applicable places, and reaching out to news sources for additional coverage / backlinking.
Results (so far!):
68% increase in organic / referral traffic
Conversion tracking enabled and website generating leads
A website that creates a sense of trust and authority
Google My Business second-highest driver of traffic so far
Christ Community Health Services
The need: This nonprofit community medical center seeks to serve those in underprivileged areas of Augusta, Ga. and had openings in their pediatric clinic.
The main issue: The site itself had great traffic, but there was no goal tracking enabled in Analytics. Also, behavior data indicated people often weren't finding what they needed – including pediatrics.
The first thing was to optimize on-site ranking signals to help Google determine what each page was about. A lot of site visitors would start on the homepage, often with branded searches, and then go to multiple pages on the site to find what they were looking for.
Next, we revamped content on main services pages to create a better user experience and answer more immediately of what they might be looking for.
Other actions include a local SEO strategy with both Google My Business locations, schema implementation,  and setup / management of Google Ad Grants.
Results (so far!):
As no conversion rate data existed for 2018, we now have a benchmark established. Conversion rates increased 9% in Q3 vs. Q2 of 2019.
16% increase in YoY traffic, with 10%+ reduction in traffic landing on the homepage and 60%+ more landing on the corrent services page
377% increase in traffic to the pediatrics page