Expertise from two marketers with 20+ years' experience spanning corporate, agency, and nonprofit settings.
And it all ties to revenue and profits. That's what we bring to the table.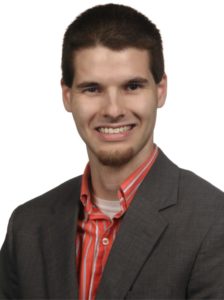 I'm Caleb Rule (find me on LinkedIn), and along with my wife, Chelsea, we're the tandem behind Rule Marketing Group.
I bring Director-level experience to your marketing challenges, having hired and led a team of revenue marketers. I bring a no-B.S. mindset that's naturally skeptical of how things are done and loves asking "how does this serve the customer?"
From overhauling The Pedowitz Group's SEO and web to helping launch the first consumer-focused golf car at Club Car and exceeding revenue targets … there's results to prove I'm worth your time.
View my personal portfolio here or say hello on LinkedIn.
Chelsea boasts a background in design, communications, and PR with a serious knack for common sense questions that make people go "oh, yeah, I should've thought of that." I could call her the Director of Common Sense but since she's my wife of 10+ years I think that's baked in by now.
Here's a few reasons why Rule Marketing Group exists:
Problem: Businesses need great marketing, but often have tight budgets
Solution:
Provide expertise at rates that are way lower than ad agencies (we've worked in a few, so we know)
Before any project, provide a "max cost" projection which guarantees the cost ceiling. In other words? We clearly communicate the most you'd pay for a project before we get started so you have peace of mind throughout.
Problem: Marketers are always asked to do more with less
Solutions:
Embrace a revenue marketing mindset. Tie everything to your desired outcomes, even if it's tangential. Re-frame the conversations around "why" you're doing what you do.
Discover gaps in your customer experiences and fix them.
Problem: Marketing is a massive jungle with plenty of misinformation
Solution:
Be someone who isn't afraid to call B.S. on bad ideas and who's plugged into a network of industry-leading folks to ensure we don't become guilty of it ourselves (I'm very active on LinkedIn for this purpose)
Show sources of information. Don't just spout data, but back it up with verifiable, trusted sources. (Want proof? Check out our blog and how we cite our sources)
Let's get started
Want to get to know me? I'm active on LinkedIn. Even if you aren't, you can see some of what I'm sharing and get a feel for how I think!
If we sound like someone you're interested in more about, contact us!