Hey there! I appreciate you taking a look at Rule Marketing Group.
If you're reading this, then the question you want answered is simple:
Who the heck are we?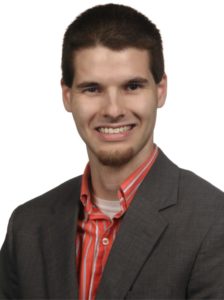 I'm Caleb Rule (find me on LinkedIn), and along with my wife, Chelsea, we're the tandem behind Rule Marketing Group.
Together, we bring 20+ years' experience across a wide swath of marketing disciplines: strategy, budget/people/project management, inbound, communications, design, PR, writing, and more. We've worked in companies ranging from $500 million+ in annual revenue to tons of small businesses, and have marketed to both multi-national B2B organizations and end-user consumers. (View Caleb's personal portfolio here).
We're based in the Macon, GA area, but have worked with clients across time zones (we're sticking to US-only for now, though).
While it may sound crazy, we actually work quick well together (*checks with wife looking over the shoulder for confirmation*) as our skills complement each other. I focus a lot on strategy and inbound, while she drives design decisions, edits anything I write, and thinks from a PR / comms perspective.
We've also seen there's common challenges small businesses face. And we know that with our expertise, we can help drive revenue for the backbone of cities everywhere: You!
Why we're here is to help. This is best stated in a problem-solution format:
Problem: Businesses need great marketing, but often have tight budgets
Solution:
Provide free resources we've used so others can, too. It's hard enough for everyone. And hey, if you see success doing it on your own – more power to you!
Provide expertise at rates that are way lower than ad agencies (we've worked in a few, so we know)
Before any project, provide a "max cost" projection which guarantees the cost ceiling. In other words? We clearly communicate the most you'd pay for a project
Problem: Marketing is a massive jungle with plenty of misinformation out there
Solution:
Be someone who isn't afraid to call B.S. on bad ideas and who's plugged into a network of industry-leading folks to ensure we don't become guilty of it ourselves (I'm very active on LinkedIn for this purpose)
Show sources of information. Don't just spout data, but back it up with verifiable, trusted sources. (Want proof? Check out our blog and how we cite our sources)
Problem: With agencies, there's a client heirarchy
Solution:
We don't take on too many clients. We have a marriage, kids, church, family, and other things we want to invest our time in – just like you! And so we're very cautious about saying "yes" to anyone if we can't do a fantastic job (but if we can't, we'll happily help you find the right fit)
Clear communication, and happy to hop on a phone and talk things through. We also don't charge for time on the phone.
Want to get to know me? I'm active on LinkedIn. Even if you aren't, you can see some of what I'm sharing and get a feel for how I think!
If we sound like someone you're interested in more about, contact us!